Category
Crystal System
Crystal Class
Colour
Silicate Mineral
Trigonal
Trapezohedral (32)
Purple, Violet, Dark Purple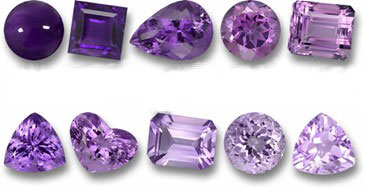 Moh Scale of Hardness
RFI
Critical Angle
Cleavage
7
1.544 - 1.553
40.49°
None
The finest amethyst colour is a strong reddish purple or purple with no visible colour zoning.
Any brownish or bronze-coloured tints in an amethyst's purple colour, or any noticeable colour zoning, lower its value dramatically.
Many amethysts display a weak, light colour or have strong zones of lighter and darker purple colour. These factors lower the value of these stones.
Much of the faceted amethyst in the market is eye-clean, meaning it lacks eye-visible inclusions.
African material, especially from Zambia, can be a highly saturated raspberry colour. It tends to have more inclusions than Brazilian material. However, due to its remarkable colour, this is considered acceptable in a faceted stone. Eye-clean material of the same colour is more valuable.
Amethysts with eye-visible inclusions but attractive colour are usually cut as cabochons or fashioned into beads. Cabochons and beads that display fine colour and high clarity sell at a substantial premium.
Rarely, amethyst undergoes fracture-filling treatment of its surface-reaching fractures to improve apparent clarity.
Amethyst is cut into a variety of standard shapes and cutting styles. These include rounds, ovals, pears, emerald cuts, triangles, marquises, cushions, and others. Facet patterns include the classic triangular and kite-shaped facet arrangements called brilliant cuts, rows of concentric parallel facets called step cuts, and mixed cuts that combine both facet arrangements.
Amethyst is also a very popular gem for cutting into a variety of freeform shapes. This is done by hand or by automated cutting. These so-called fantasy or designer cuts can be mass produced or created as one-of-a-kind pieces. They sometimes display concave faceting, where normally flat facets have a concave shape. Other types of cuts and carvings are also found, including carvings of animals and other objects.
Amethyst is available in all size ranges for setting into a variety of jewellery styles. It's popular as a large centre stone since the price per carat does not rise dramatically with larger size. Amethyst is also commonly found in calibrated cuts, which means they're cut precisely to standard industry sizes, in all qualities.
Commonly, a Bishop's ring is an oval shaped amethyst, usually very large, with the diocesan seal engraved directly into the flat surface of the gem. In earlier times the ring was always worn on the middle finger of the Bishop's right hand. This ring was very visible when the Bishop raised his hand and gave a blessing.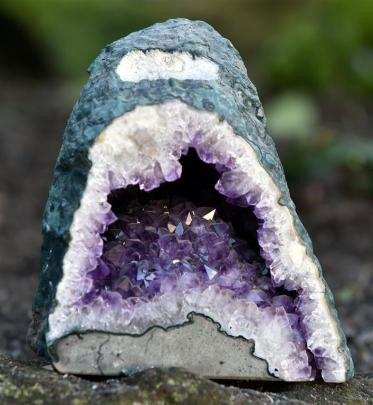 Empress of Uruguay – 11 feet.
Originally discovered in the Artigas region in northern Uruguay, the geode was transported to the Crystal Caves Museum in Australia in 2007 (Atherton)
Australia
Brazil, Uruguay, Zambia, United States, Canada
France, India, Madagascar, Mexico, Morocco, Myanmar, Namibia, Russia, South Africa, Sri Lanka, Tanzania
QLD - Kuridala (near Cloncurry)
Kuridala is located about 65km south of Cloncurry in North West Queensland. This is probably the most well-known location for fossickers.
QLD - Castle Mount/Amethyst Castle (near Cloncurry)
Castle Mount is about 100km south of Cloncurry in North West Queensland. Amethystine quartz is found at this area
WA - Wyloo Station
The "Great Australian Amethyst Mine" is located on Wyloo Station in WA. Permission from the owners is required before visiting this location.
NT - Central Harts Range
Excellent Amethyst crystals and sceptres can be found in the Hart's Range.
NT - Victoria River Downs Station
NSW - Corona Station (near Broken Hill)
Very nice Amethyst has come from the Corona Station near Broken Hill.
Moses described it as a symbol of the Spirit of God in the official robes of the High Priest of the Jews, and the Russian Empress Catherine the Great sent thousands of miners into the Urals to look for it. In popular belief, the amethyst offers protection against drunkenness - for the Greek words 'amethystos' mean 'not intoxicated' in translation.
It was said to protect crops against tempests and locusts, bring good fortune in war and in the hunt, drive out evil spirits and inspire the intellect.
A little study of the works of Pliny will reveal that this gemstone, if worn round the neck on a cord made from dog's hair, affords protection against snakebite.
Later, Hieronymus even reported that eagles placed an amethyst in their nest in order to protect their young from the self-same danger.
Apart from these powers, gemstone therapists say that the amethyst has a sobering and cleansing effect. Amethyst has also been said to quell excessive stomach acid and, according to Hildegard von Bingen, served to combat insect bites and beautify the skin.
But the amethyst not only had a firm niche in medicine; it was also esteemed as a stone of friendship. And since it was thought to put the wearer in a chaste frame of mind and symbolise trust and piety, the amethyst came to occupy a very prominent position in the ornaments of the Catholic clergy over the centuries. It was the stone of bishops and cardinals; we find it in prelates' crosses and in the so-called Papal Ring (Italian, 15th century) in the Jewellery Museum in Pforzheim.
In ancient times, amethyst was already being engraved and cut into sculptured forms, witness the bust of Trajan which Napoleon captured in Berlin. Amethyst quartz, banded with whitish layers, is particularly good to work with, though it is only ever either translucent or opaque or somewhere in between. In earlier times, people liked to drink wine from amethyst cups, which brings us back to the stone's protective function against alcoholism. According to the ancient Greek saga, Diana turned a nymph whom Bacchus loved into an amethyst; hence the term Bacchus stone. Anyone wishing to protect a drunkard from delirium mixed some pulverised amethyst into the person's drink.
Amethyst is used in jewellery and can be cabbed and faceted.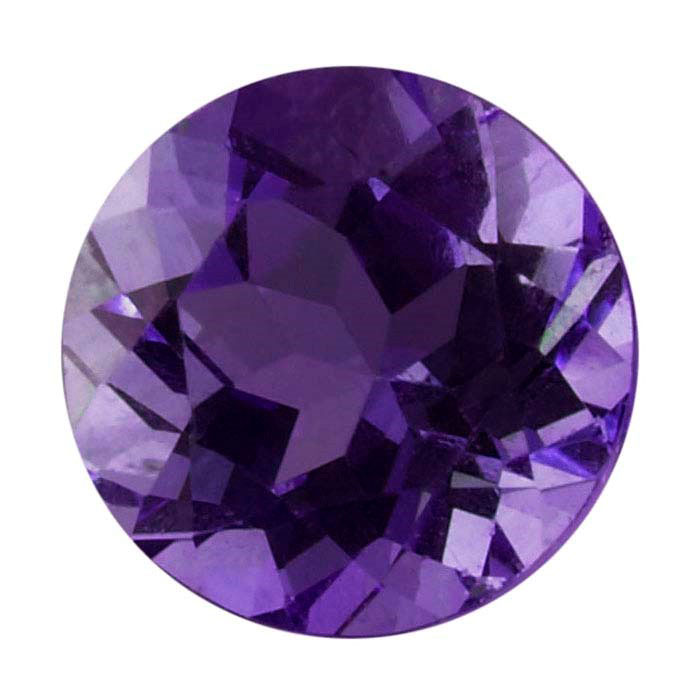 Synthetic (laboratory-grown) amethyst is produced by a synthesis method called hydrothermal growth, which grows the crystals inside a high-pressure autoclave.
Synthetic amethyst is made to imitate the best quality amethyst. Its chemical and physical properties are the same as that of natural amethyst and it cannot be differentiated with absolute certainty without advanced gemmological testing (which is often cost-prohibitive). One test based on "Brazil law twinning" (a form of quartz twinning where right and left hand quartz structures are combined in a single crystal[15]) can be used to identify most synthetic amethyst rather easily. It is possible to synthesize twinned amethyst, but this type is not available in large quantities in the market.[6]
Single-crystal quartz is very desirable in the industry, particularly for keeping the regular vibrations necessary for quartz movements in watches and clocks, which is where a lot of synthetic quartz is used.
Treated amethyst is produced by gamma ray, X-ray or electron beam irradiation of clear quartz (rock crystal) which has been first doped with ferric impurities. Exposure to heat partially cancels the irradiation effects and amethyst generally becomes yellow or even green. Much of the citrine, cairngorm, or yellow quartz of jewellery is said to be merely "burnt amethyst"
Wiki-how – testing amethyst
And for the more scientific minded, check out the paper on GIA website