I have been playing again. This time using silver foil and enamel paints.
It started with a demonstration of sawing/piercing to some of our newest converts to the Silver Smithing area.  I thought I would demonstrate that sawing can be used not just as a means to cutting links for making chains.  I had seen some beautiful enamel work on Facebook with leaves and butterflies so thought I would give a butterfly a try.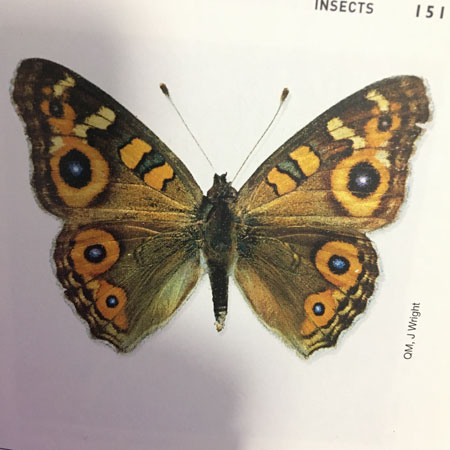 I started by using my Wildlife of Greater Brisbane book to find a butterfly with the colours I thought I could reproduce, especially some of the transparent colours that can be achieved on silver foil.  See the Meadow Argus (pictured above). I then drew a diagram with a plan of the colours I would use and how that would relate on the copper. I then used a flux on the copper before placing silver foil on the areas I wanted to shine.  The rest was wet packed and finally enamel paints on the final layer.
Most of the work was torch fired, because I was impatient and doing it at home, but ideally as the piece was so big it would have been better kiln fired.  It was hard to keep the heat on the whole piece.  The last fire I did do in the kiln just to give it the gloss finish.