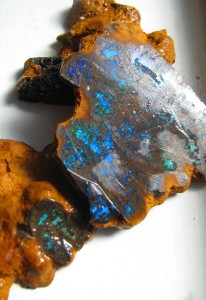 WHO JOINS A LAPIDARY CLUB
Well, we have members from many walks of life and all ages. Professionals, stay at home mothers, young couples and singles, families with children and retirees. All, though, have the desire to make something using the skills we teach. Some of the members go on to make a living out of what they learn, but most are content to make beautiful pieces for family and friends.
DO YOU NEED TOOLS OR OTHER EQUIPMENT
No, all the tools and equipment you require, to work in the club house, are supplied. Of course as you progress you may wish to purchase some of your own equipment that is entirely up to you. We also stock a limited supply of the material you need to work with, gemstone rough, silver etc. But material you require can be purchased at a Gem Show, off other members, from a retail outlet or by finding it yourself on a field trip. You require some equipment if you are going on a field trip, but please ask, because initially some spare equipment can probably be sourced.
HOW DO YOU JOIN
Come along to any workshop session at the clubroom located in Albert Bishop Park, Nudgee Road Nundah (near Schultz Canal). The entrance is off Nudgee Road. Telephone 3260 7025 (only during work sessions). You can download, print and fill out the forms first, prior to coming to the club. Families (up to 4 members) can now easily join by completing page 2 of the Application Form. Download each of the following forms, print and fill them out:
NBLC – Membership Application Form – 2022
Applicants are required to attend a general meeting within 4 weeks of lodging the application. General Meetings are held every third Wednesday evening at the club rooms.
HOW OLD DO I HAVE TO BE?
People from 12 to 112+ years old can join the club. Your first session is look and see and is free. There is no obligation to join on your first visit.
WHAT TYPES OF MEMBERS DO WE HAVE?
Adult Members.
Pensioners / Seniors (65+)
Junior Members (12 to 18 years).
Associates (not wishing to use the workshop facilities).
Life Membership may be conferred on members who have given distinguished service to the organisation over a number of years.
NEW MEMBERSHIP TYPES
The NBLC has decided to introduce two new membership types:
Guest Members – members from other lapidary clubs (have to be current financial) who wish to attend our club rooms for no more than 10 work sessions per year.
Temporary Members – visitors from out of town who wish to attend our clubrooms / work sessions. Have to be introduced by a current financial NBLC member.
NBLC – Membership Application (Temporary or Guest)
QLACCA
Queensland Lapidary and Allied Craft Clubs Association Inc. is an association of 33 affiliated clubs in Queensland.