Faceting of Gemstones
Faceting is the art of taking a piece of rough, uncut, gemstone material and turning it into a thing of beauty ready to be set into a piece of jewellery or added to your collection. For best effect material to be faceted needs to be translucent so that light can be passed into the stone and refracted back out of the stone. This gives the sparkle or brilliance of a faceted stone.
Types of stones that are faceted include garnet, citrine, amethyst, zircon, topaz, tourmaline, peridot and sapphire.
NBLC have 5 faceting machines and all equipment required to start faceting. However it is a highly technical process and requires time and perseverance to succeed. Faceting is taught over a 2 day workshop.
Courses are scheduled at regular times through the year, when there is an instructor available and when there is sufficient interest from members.
Cabochoning Of Gemstones and Opals
The word cabochon comes from a French term "en cabochon" meaning bald or domed head.
NBLC uses both diamond grinders and silicon carbide grinders. Each have there own advantages. Each of these machines use water to both keep the stone cool and to prevent any health problems from inhaling silica powder (rock dust). For this reason a vinyl apron is always useful when using the cabbing machines.
Cabochoning is the art of cutting and shaping a stone on a grinding wheel to form a domed top, then sanding and polishing the surface so that it shines. The most common cabochons are oval shaped though more experienced cutters will cut any shape that suits the particular stone, limited only by their imagination and skill.
Any stone can be cut in this manner, but they are predominantly opaque or translucent, such as turquoise, agate, jasper, lapis lazuli and carnelian.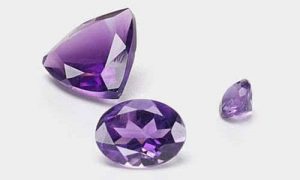 Some are cut to display certain visual effects like tiger eye which shows a cat's eye known as chatoyancy, or "star" sapphires which display a six rayed star when cut correctly.
Precious opal is mainly cut using the same techniques of grinding, sanding and polishing but not in a cabochon shape. Opal is cut to maximise the fire or flash within the stone and can be flat or even concave on top; not necessarily domed like a cabochon.
Even the more prized transparent gemstones (sapphire, ruby, garnet etc.) can be, and have been cut into cabochons, but are generally faceted to give a more outstanding effect.
Cabochon instructors are rostered on at most work sessions. Full details of instructor availability can be found on the Calendar/Bookings page.