by (Woodworm) Christoph
Here are some things about petrified wood which get me excited..... well, not just wood, all permineralised plant material.
It all started in Germany where I was born in the town of Chemnitz, world famous for its Permian petrified forest and the local museum specialising in petrified wood from around the world and particularly in Permian flora.
As a child I always loved going into the Museum für Naturkunde Chemnitz. I was amazed by the fine detail of preservation right down into the cell structure. An ancient plant turned into rock. As I grew up I met a few collectors, called wood worms, and I was hooked even more. We went on field trips all over Europe and I still have a large collection over in Germany at my parents place.
Now how does petrified wood form?
Most importantly is that the wood is covered and locked away from oxygen, so it can't rot away. In many cases petrified forests are links to volcanic activity. If things go right there is an eruption, which produces mostly ash and this ash will bury the forest. Over millions of years, minerals, predominantly quartz with other trace elements and metals will slowly impregnate the cell structure turning the wood into stone. This process is still not fully resolved.
The other way is wood gets buried by sediments such as sand. The process is the same, key is the presence of enough minerals to impregnate the wood. There have been cases that animal traces such as toredo borers (known as the famous peanut wood from the Kennedy ranges) or termites with their excrements (coprolites) have left their traces.
I'm more interested from a scientific angle of what species grew at which time, and how they have evolved through the evolution.
Petrified wood can actually be found on every continent. Yes, even Antarctica which was part of the super continent Gondwana.
There are some very famous petrified forests in the world such as the one in Arizona with its beautiful red petrified wood.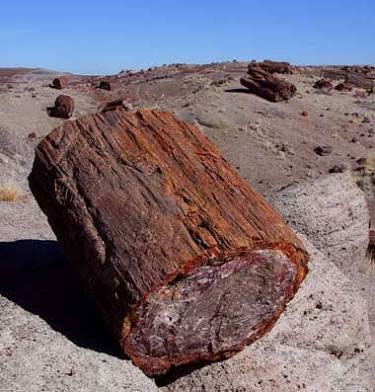 Or most exciting Araucaria cones from Argentina.
There is so much unknown still and only recently I have found a species of fern? which I haven't found in the literature yet.
Australia has got a good diversity to offer from the Permian deposits in the Bowen basin to the well sought after Jurassic woods, Donpoxylon and ferns from central Queensland around Miles and Chinchilla and Lune River in Tasmania. Cretaceous peanut wood from WA and more recent tertiary opalisiert woods from Springsure. There are many more places to find it.
A good tip is the display in the Miles historical village. It houses the collection of former Norman Donpon, a mad collector which I was privileged to meet a few years ago.
Now I could go on and on about it .....
Below are a few more pieces from my collection.